Network Scanner
If you would like to find and analyze all devices in your computer network, the most comfortable way is to use the feature-rich Network Scanner that is built in as a tool in NetSetMan. Scan your network for computers, printers and shared resources quickly and easily.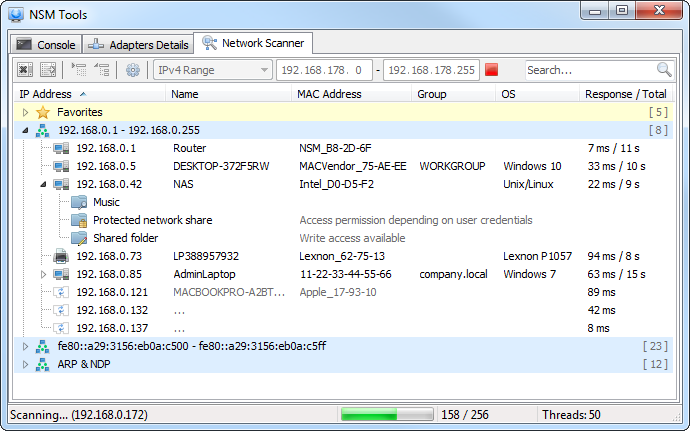 IPv4 & IPv6
Scan networks by IP range, subnet (CIDR) or by cached results from ARP and NDP (network discovery).
Collecting network device details
Get the name, workgroup/domain, MAC address, operating system, network shares, descriptions, etc.
Using the results
Copy details, open targets (file explorer, RDP, http/s, ftp) or export results (html, txt).
Vendor names
View the NIC manufacturers of all devices based on a hand-picked list of the most relevant vendor MAC-OUIs.
Remote actions
Control remote devices with Wake-On-LAN (WOL) and Remote Shutdown/Reboot (with admin privileges).
Favorites
Add results to your personal Favorites list to quickly update the status of specific IPs or boot them up using WOL.
Multi-threaded
Process many IPs at the same time to complete a large-scale network scan within the shortest possible time.
NetSetMan's Network Scanner is the most thought-through and user-friendly solution you will find for exploring computer networks!
If you are already using NetSetMan, you are only one click away from this useful feature. Otherwise simply download the lightweight Non-Commercial Freeware and you will quickly understand why NetSetMan is often referred to as an indispensable Swiss army knife for networks!

Download NetSetMan
For Windows 7/8/10/11 (32/64 Bit), 4 MB
Find out more about the leading network settings manager or watch the short introduction video on YouTube.