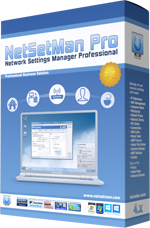 Commercial Use
We provide NetSetMan free of charge as a Non-Commercial Freeware for private users. To prevent it from being used for commercial purposes, we've implemented certain local detection methods into the software.
For example, the use in a network domain (by definition a professional network) or a Windows Enterprise Edition is prevented. Even if these measures will hardly affect private users, we regret every single one of these unlikely cases, but see no effective alternative. If you feel unjustly affected, please consider the professional nature of your system and that you are free to use the software in a workgroup instead.
Unfortunately, this measure became necessary, because more and more users did not respect the licensing requirements. We regularly receive support requests from companies without a commercial license. It doesn't really matter whether the license abuse is based on ignorance or indifference.
In essence, commercial use means anything that involves money or monetary benefits of any kind. In those cases a NetSetMan Pro license is required.
Examples of commercial use
Examples of non-commercial use

at work (incl. non-profit organizations)
as a teacher/professor
on a laptop belonging to a company, government agency or educational institution or used for professional purposes

private use at home
as a student (except paid internships)
in a voluntary, unpaid activity
Legal Considerations
As a basic principle, software may only be used in compliance with certain rules. These rules are defined in the Software License Agreement. Only if they are complied with, the software can be used legally.
The use of the non-commercial freeware version is only permitted for private and other non-commercial purposes. Any use outside of this scope is expressly prohibited by the Software License Agreement and is therefore illegal.
Fairness
We believe it's fair if private users can use productive software free of charge. Of course we are happy if this increases the popularity of the software, so we get more feedback, such as suggestions for improvement and bugreports. For this reason, we've been offering support even for the free version for more than 19 years now.
In return, we are dependent on the fairness and sincerity of our users who comply with the Software License Agreement and purchase Pro licenses for commercial use. NetSetMan is our only software product, so that we can fully focus on it. However, this is only possible with your support.
Licensing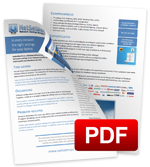 If you're employed by a company, you probably don't even have to pay the license yourself. Every company wants their employees to work as efficiently as possible.
By using NetSetMan Pro, you save valuable time on a daily basis. This pays off for your employer after just a few weeks, as our license price is very inexpensive. And if the software is also something for your colleagues, then you can save money by purchasing a company license.
Our references show our quality. Would you like NetSetMan Pro to be used in your company as well? Then print out our Product Data Sheet (2 pages) with the most important details and hand it over to your supervisor, IT or colleagues.
Thank you for your fairness and for using our software!